Batch Tab
The batch tab has the following data points that may or may not be edited or adjusted on the fly. Some sections you are free to edit and some (Ex: SKU number) we do not recommend that you edit at all.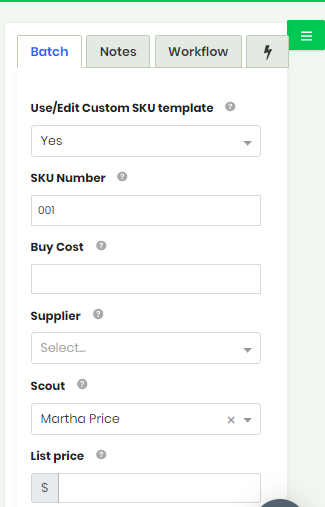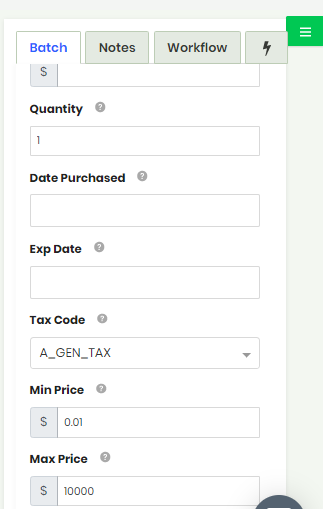 Field Definitions
Use/Edit Custom SKU Template
Here you can edit your custom sku on the fly within the current batch you are working on. It will not affect your global sku settings and thus any changes made here will not be present at the start of your next batch.
A SKU prefix is what identifies and organizes your product either in your home office or warehouse. it can be very useful to your business and is required by Amazon. If your looking to know how and why to build out your seller sku then please reference this article.
(P.s: The Custom SKU settings i.e. the Global SKU settings that you've created can be accessed in Settings-> SKU Settings. Learn more about it here)
SKU Number
By default, we assign your first item that you scan with each new batch the #1.
Then the next item you scan is further defined by a #2,
Then a #3, and so on.
This is how you will keep the individual product SKU in order and unique.
Buy Cost
Buy cost is used for profit tracking and accounting. You can select and type in a buy cost for each item as you list or average it out ahead of time across all products in the batch to speed up your workflow.
Supplier
Supplier is another accounting and profit metric that allows you to track which suppliers are providing the most amount of profit for you. It could be a local Goodwill, a certain grocery chain or your favorite wholesale website.
Scout
Which scout or employee sourced this product for you.
List Price
List price refers to the actual price you are listing the item for as you batch it out with AccelerList and send it over to Amazon Seller Central
Quantity
This allows you to change the quantity of a scanned product from 1 to something different. This usually happens when you have multiple of any one product SKU in your batch.
Date Purchased
Another accounting and profit metric that is used to mark when you bought a product
Expiration Date
An important metric for those sellers selling products such as grocery and others that has an expiration date that needs to be attached to it
Tax Code
This is where sellers can leverage our drop down list and select the most appropriate tax code for their business
Min Price
The absolute bottom price you will accept Amazon to sell your product for in any situation. Even when working with Repricers.
Max Price
The absolute top price you will accept Amazon to sell your product for in any situation. Even when working with Repricers.
---
---