Understanding MCF (Multi Channel Fulfillment) fees on Amazon
Multi-Channel Fulfillment (MCF) is an Amazon-run fulfillment service for sellers who sell on channels outside of Amazon. For example, if you sell items through your own website or on another channel such as eBay. Businesses can store part or all of their inventory in an Amazon warehouse. When a product is purchased on a non-Amazon sales channel, Amazon will process and ship your item directly to your customer.
Your eBay sales will not be shipped as a Amazon Prime offer because it is too cost prohibitive. eBay shoppers are not used to getting items within two days typically so this is ok.
Standard shipping from the Amazon warehouse to your customer will have the following pricing:

Example Amazon vs. eBay sale with MCF fee structure
For this pricing example we will use a typical book sale: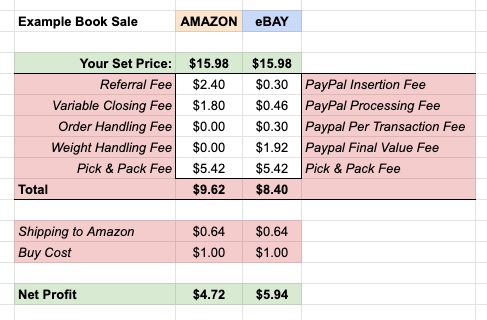 ---
---